Motorized Louvered Roof | Motorized Pergola | Commercial Spaces | Sunair Awnings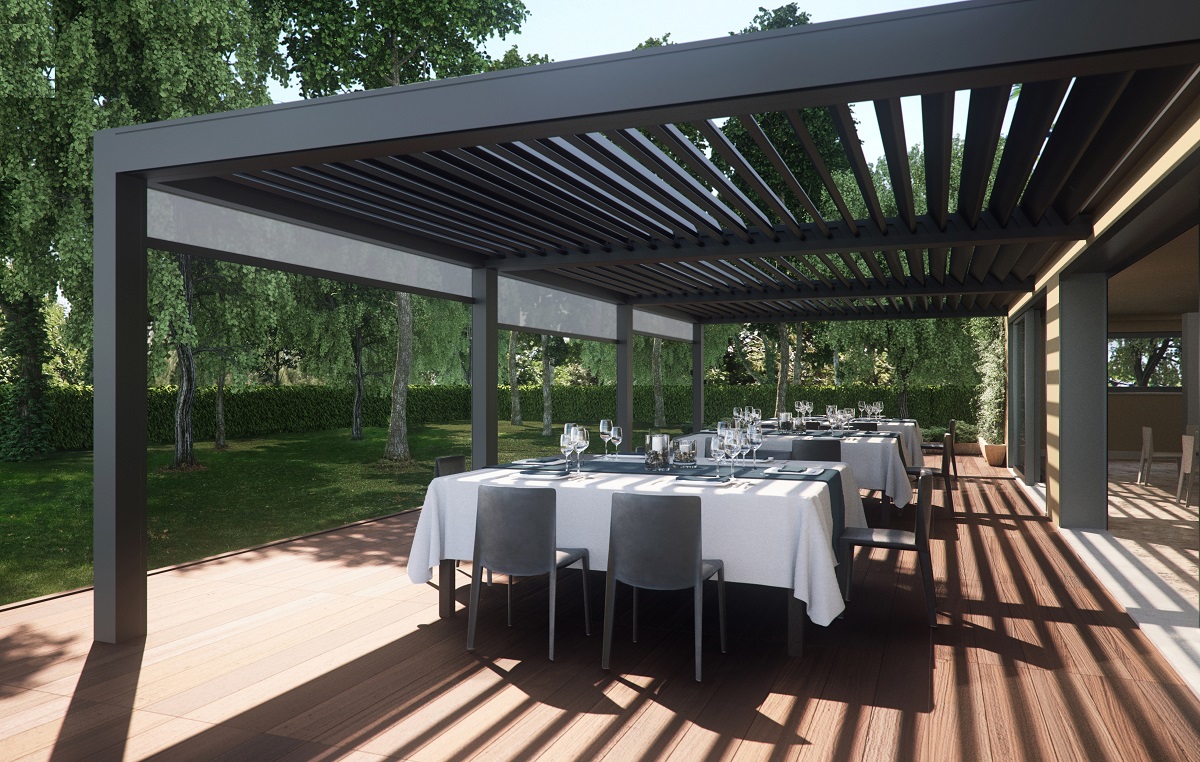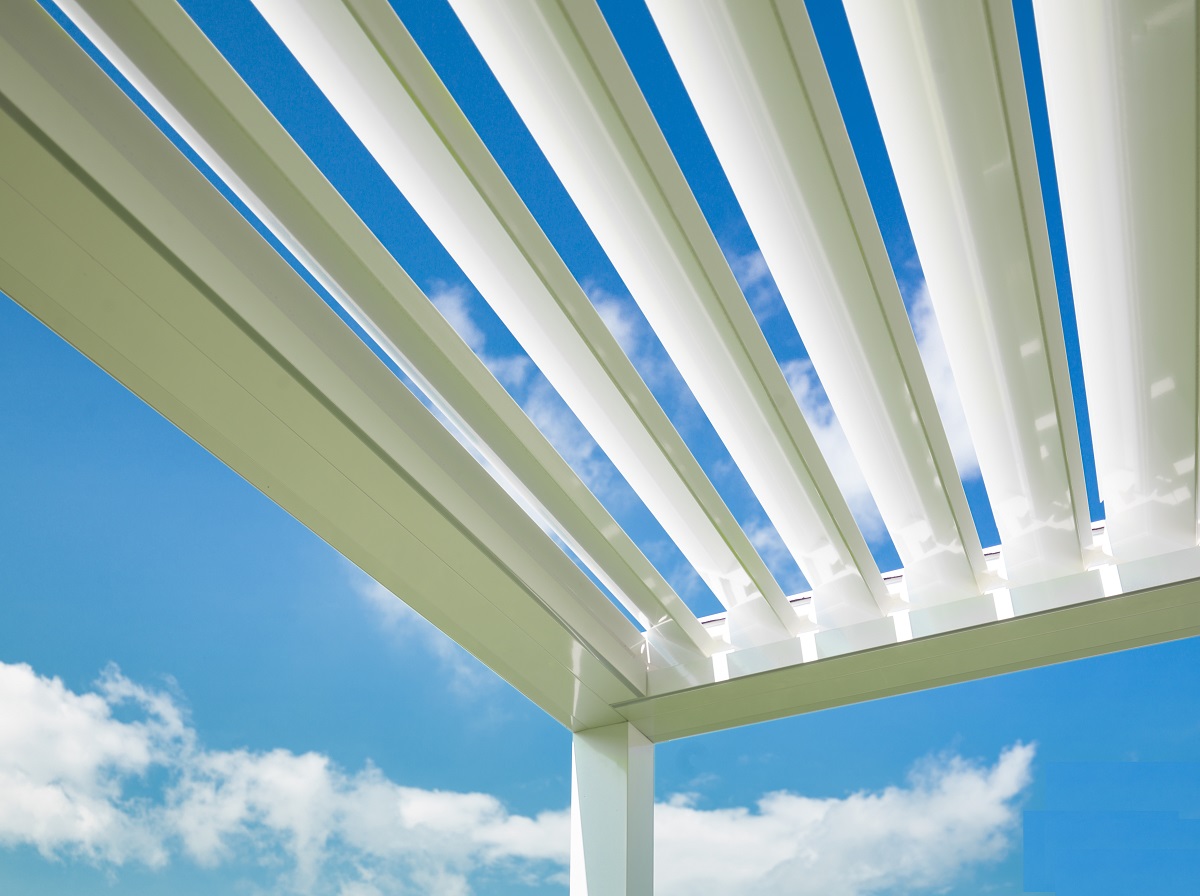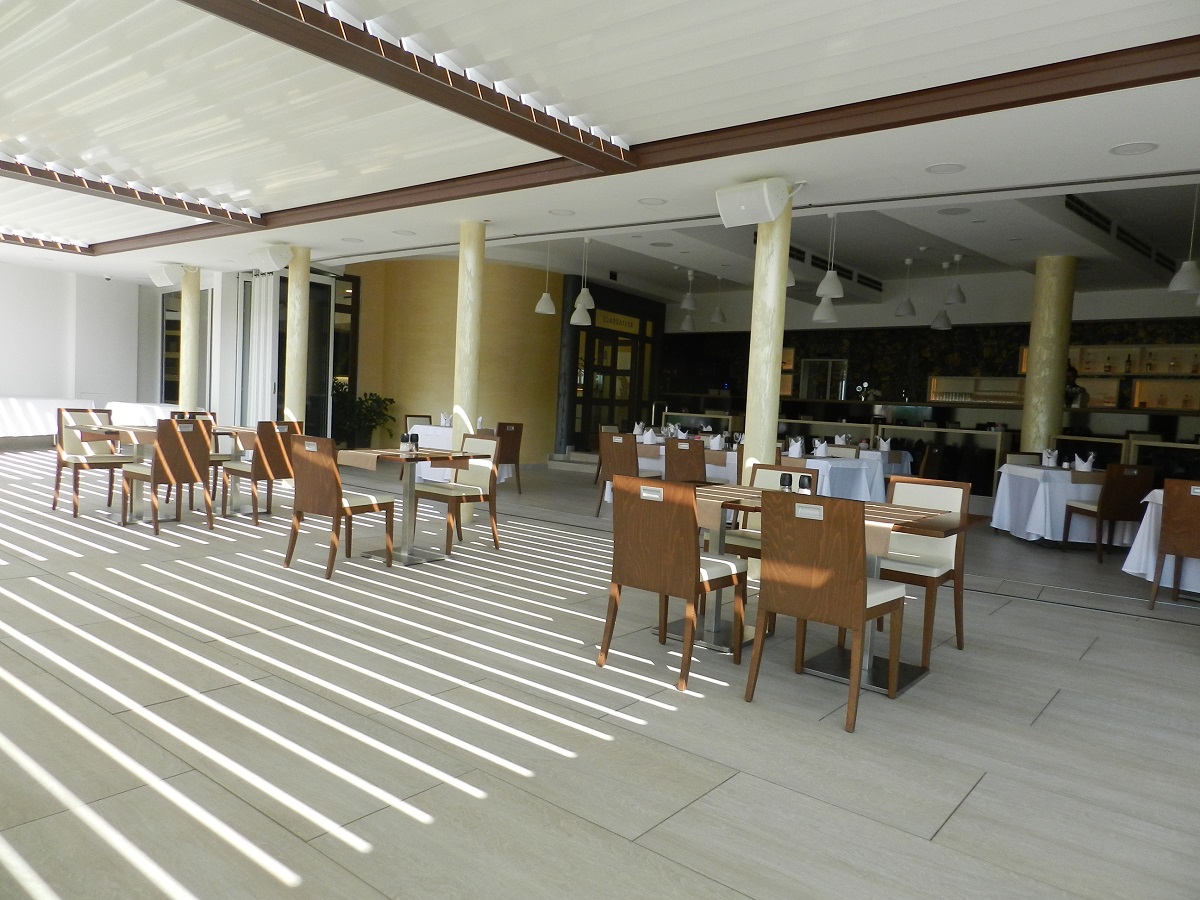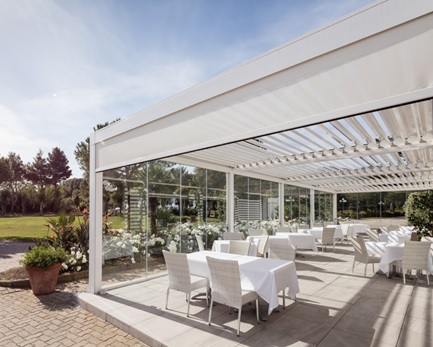 Innovative Possibilities For Your Outdoor Patio Space
Our OPERA, VISION and BRERA bioclimatic retractable and adjustable Louvered motorized Pergola® structures are perfect for commercial restaurants, hospitality, hotel, patio and deck spaces. They provide you with an alternative unique level of control over nature, combining style and function to create and enhance your outdoor living space. With a touch of the remote button, the louvers can be positioned anywhere within their 140-degree range of motion for the exact amount of protection or ventilation desired. For rain protection, close the louveres and the rain will be diverted through the integrated gutter system and posts. Once the rain ends, the louvers move at your complete command to allow for more shade or sunshine. The Brera model offers the additional convenience of fully being able to retract the louvers for an al fresco dining experience. These PRATIC Bioclimatic adjustable Louvered systems are custom made to fit virtually any space and represent the latest in innovation, performance and technology. Our Louvered roof is ideal for any outdoor seating and eating areas such a deck, patio or courtyards.
Sunair® Awnings is proud to offer the full line of motorized adjustable roof structures from PRATIC. These metals structures are ideal for
all commercial spaces and can be fully customized to fit the space. The built-in gutter and posts serve as water management and downspouts.
The Pratic models we offer are Opera, Vision, and Brera. Pratic adjustable louvered Roof Pergola structures are ideally suited for restaurants, hotels, and hospitality spaces.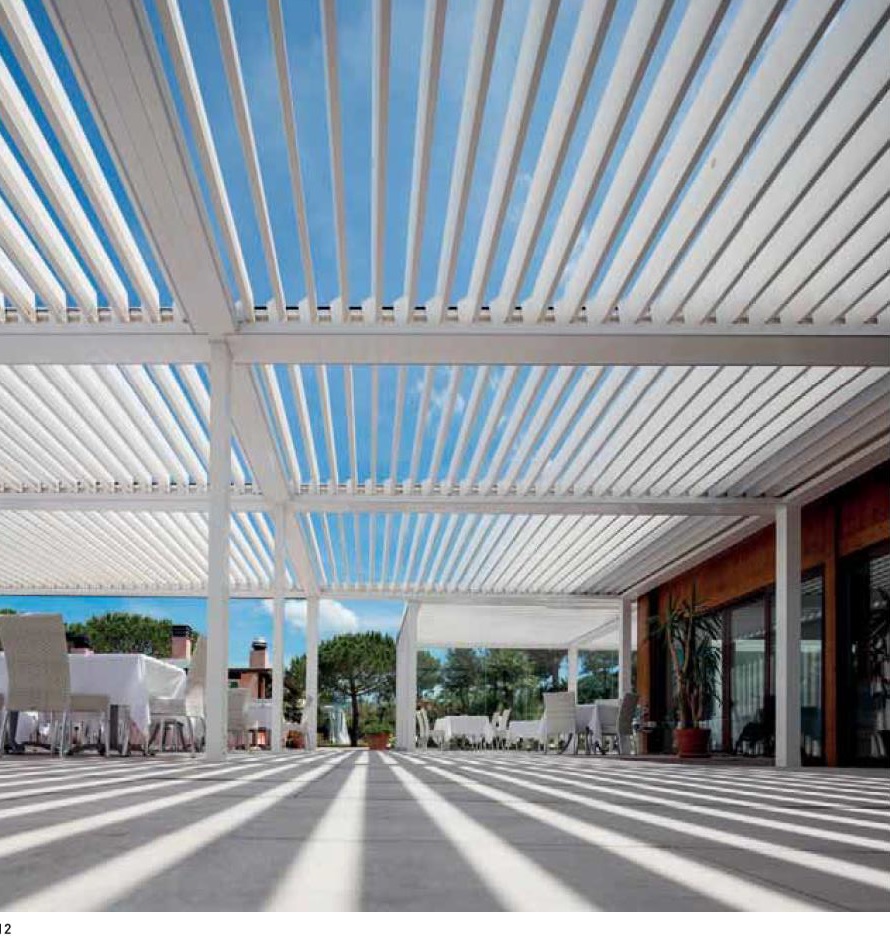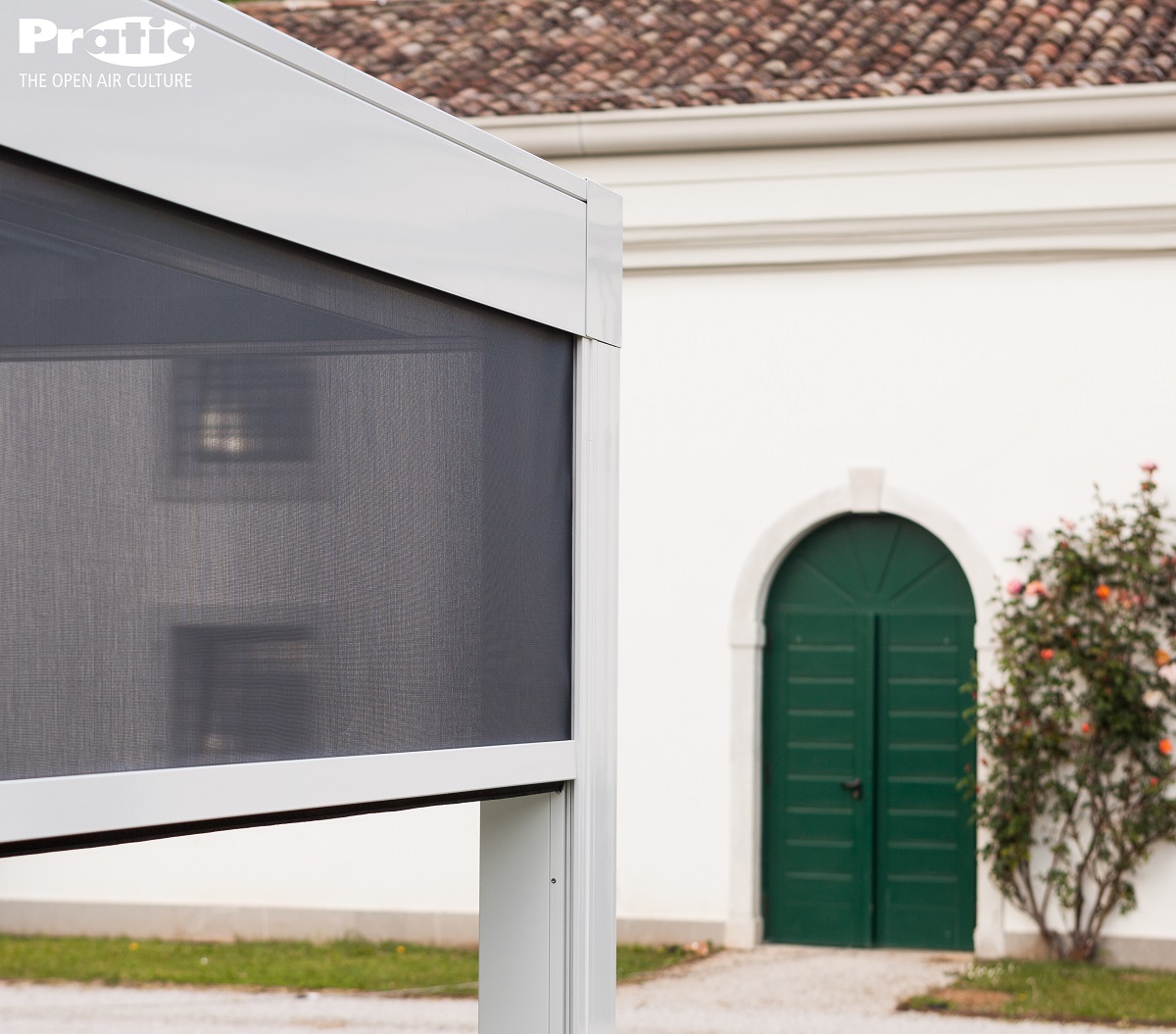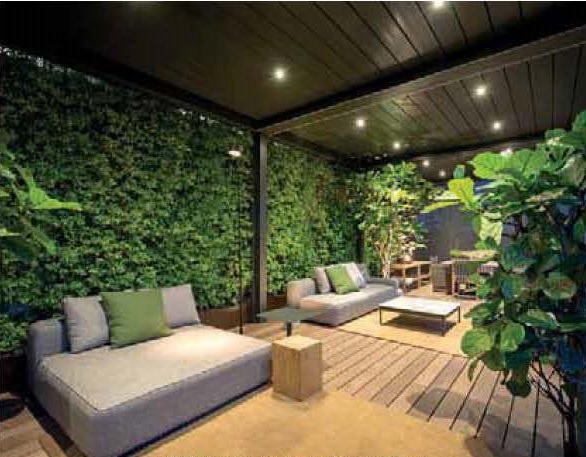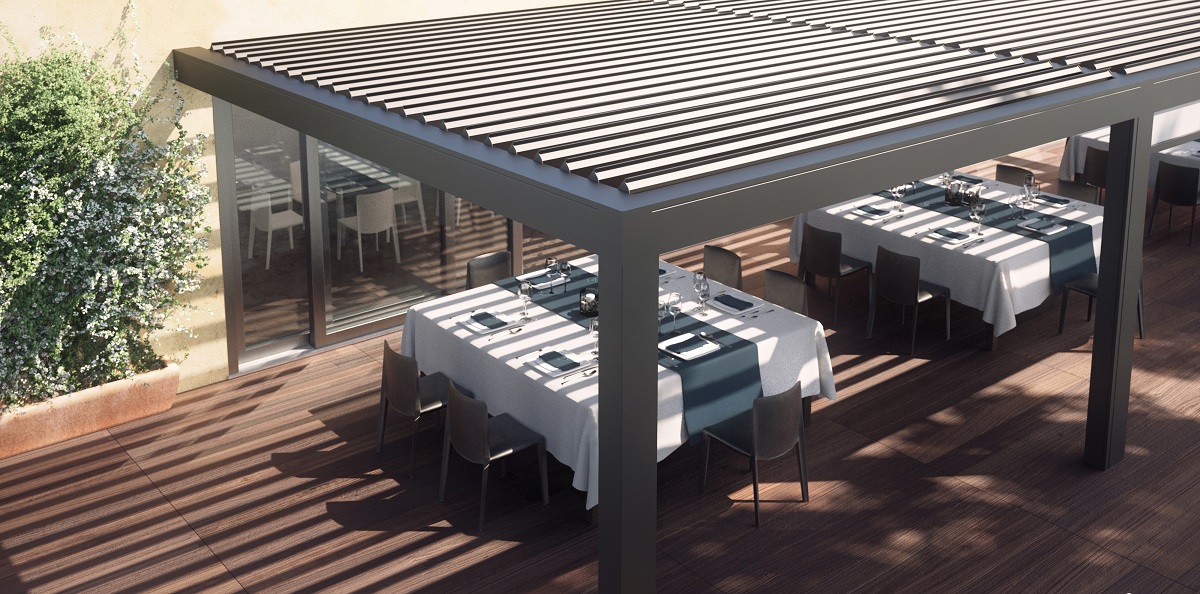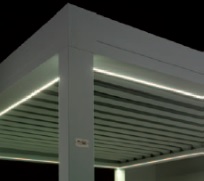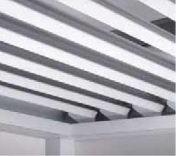 Blades opened 45 degrees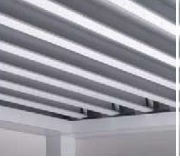 Blades opened 90 degrees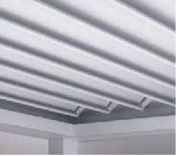 Blades opened 140 degrees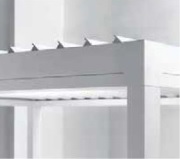 Blades opened on side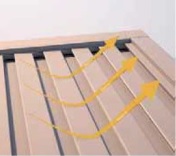 Solar Modulation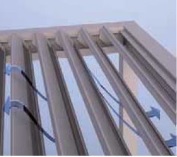 Air Recirculation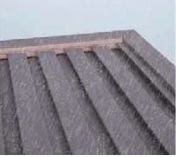 Rain Protection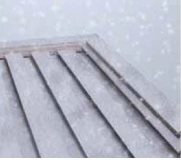 Snow Load Resistance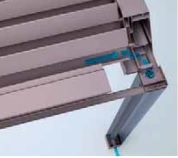 Water Drainage
The Opera & Vision louvered roof Pergola® system is available with below configuration and options.
Custom bay sizes up to 16' 5" wide x 22' 11" projection
Multiple units/bays can be added together for larger sizes
Motorized with remote control
8 standard frame colors as well as 100's of optional custom colors
Built in water drainage with integrated rain gutter and posts downspouts
Optional Raso side screens for the Opera model
Optional RGB lighting, spot LED lighting and heaters
Backed by a 5 year limited warranty
Control the Weather
Read More
Whether entertaining or relaxing, the Sunair® adjustable motorized louvered Roof completes your outdoor environment. It's the ideal enrichment to any commercial space. Now you can utilize your patio to its full potential the way it is meant to be. For the business owner, you can expand the luxury of your patio experience. The Opera, Vision and Brera models are designed for small to large spaces, free standing or wall mounted. Optional LED RGB lighting and spot LED lighting are available for both systems. For the Opera and Brera model, optional Raso roll down screens that can protect you further from the sun or be used during the cooler inclement winter months with roll down vinyl, windowed curtains are also available. We invite you to discover how our custom made louvered Pergola® roofs can be an investment that will pay dividend and show a return on your investment very rapidly.
OUR BIOCLIMATIC PERGOLAS® ARE PATENTED AND WATER TESTED
Read More
Our unique motorized louvered roof systems are covered by six (6) patents from Pratic in Italy which emphasizes the uniqueness and quality of our products. The units have been tested to see how waterproof they are by the "Giordano Institute" in Italy. The rain simulation was equal to 369 m/hour with a pressure of 3.4 bars in an undefined time of two rain events or downpours. For more information please inquire with Sunair® main office.
ADJUST THE LOUVERS TO BLOCK THE SUN OR ALLOW AIR CIRCULATION
Read More
The uniqueness with an adjustable louvered roof Pergola® structure is that the metal louvered blades are opened or closed following a natural cycle of the sun. This enables you greater flexibility in light penetration or sun blocking. When the blades are opened in the opposite direction to the natural cycle of the sun, the blades block the sun as per below diagram.
THE BRERA MODEL OFFERS A FULLY RETRACTABLE LOUVERED PERGOLA® SOLUTION
Read More
The uniqueness with the Brera is that you also have the ability to fully retract and extend the motorized louver blades in addition to being able to adjust them to the sun angle. Now you can have the best of both worlds enjoying an al fresco dining experience with the benefits of also having an adjustable louvered solution.
WHAT MAKES THESE SYSTEMS BIOCLIMATIC
Read More
There are many reasons we call these Louvered roof Pergola® systems "Bioclimatic". The obvious reasons we call them bioclimatic is because these systems reduce energy, the consumption of heating and air conditioning , controlling the temperature on the patio or deck. The not so obvious reasons are they meet modern bioclimatic architecture parameters which require respect for the environment, reduced pollution and maintenance and the creation of improved overall comfort both indoors and outdoors. The bioclimatic systems are also ecologically sound. The materials are 99% recyclable.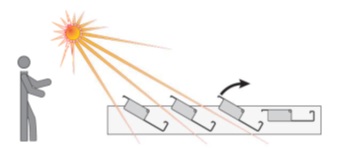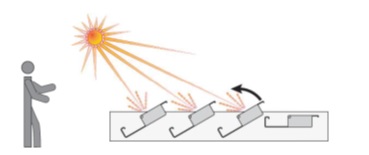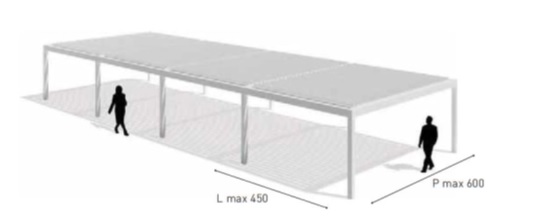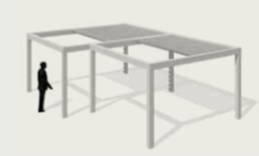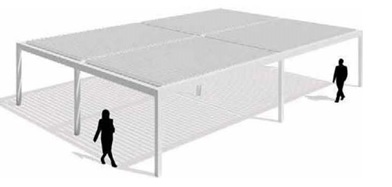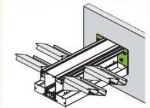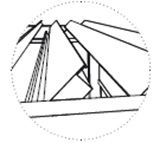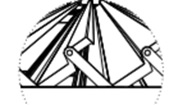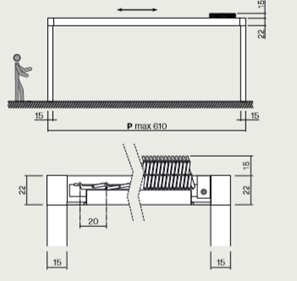 The BRERA Pergola System offers you the convenience of fully being able to retract and extend the louvers in addition to angled adjustment to the sun.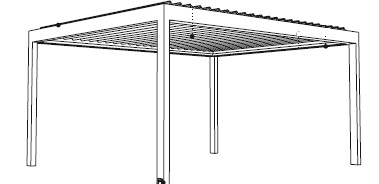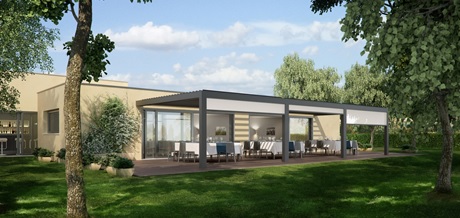 Both the Opera and Vision louvered system have been tested for simulated snow loads. Please inquire with the Sunair® main office for the report and data for your project size.

I OWN A RESTAURANT OR HOTEL. HOW CAN I BENEFIT FROM A LOUVERED PERGOLA AWNING?
The SUNAIR® Louvered Pergola® roof systems are an ideal system for commercial restaurants and café's, in addition to hotels and institutional properties alike. They add durability and function against the elements. These systems can be used for sun protection, as well as for inclement weather and rain protection, with integrated gutters to disperse water. For hotels, night clubs and bars, the louvered roof system will provide comfort and protection for your patrons year round and show a return on investement very rapidly. They can also be used for weddings, parties and corporate events. All our Pergola® models are custom built to fit your area. Your choice of either the Opera, Vision or Brera louvered roof system will depend if you want the to add Roll down bug screens or colder weather zipper screens with windows to create a three season room. Roll down zipper screens are optional for the Opera Louvered roof model. Multiple units or sections can also be mounted together with a gutter systems to cover even larger areas as can be seen in above picture. The system is conveniently operated with an integrated motor which is controlled by a hand held remote. With the remote the Pergola® louvered metal louveres or slats will open and close automatically to the desired angle.
For restaurants and cafés, these awnings are quickly becoming fashionable. Protecting your guests and outdoor seating area during fierce mid-day sun and inclement weather keeping your patrons happy and comfortable. Being able to continue serving on the patio, generates increased revenue even during inclement weather which is also good for the bottom line.
Feel free to call us today and we can help you design the best system for you and show you how quickly the investment will pay off.
Opera, Vision, Brera Advantages
The OPERA, VISION & BRERA can be wall mounted or free standing structures. The supporting profile and guides are 8 ½" high (22 cm). Posts are 15 cm x 15 cm (Foot plate is wider).
Water management within the gutter system and discharge within the posts is a Pratic patent. Optional telescoping post feet are available for ease of installation.
For greater perimeter protection, the OPERA & BRERA model can be configured with optional retractable RASO zipper screens hidden within the beam system.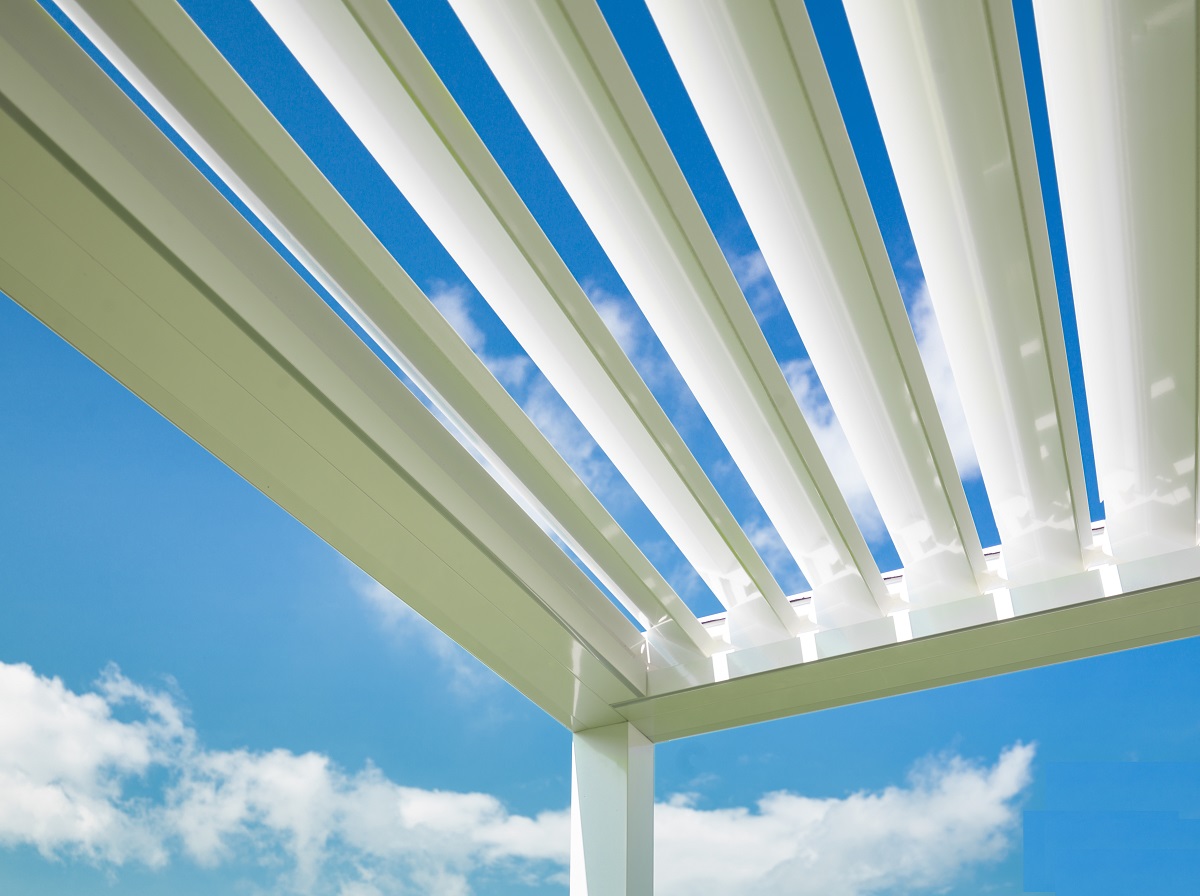 For the ultimate control over nature, the BRERA model offers the option to fully retract and extend the louvers at a touch of a button the same way that a traditional fabric Pergola roof system functions.
Our adjustable louvered systems are solid, made to measure structures that can reach large sizes (16'5" x 22'11" for Opera & Vision models). Coupling of multiple structures to make larger sizes is possible with common posts .
The OPERA, VISION and BRERA RGB LED multi-colored lighting offers a fascinating, elegant remote controlled lighting option (White lights included).
The OPERA, VISION, and BRERA offer more pre-assembled structure components for a safer and easier installation on site.
These are a few of the many available combinations possible for your project. (Please inquire with the Sunair® main office for additional information).