Reasons to Buy an Awning or Pergola from Sunair | Sunair Awnings
SUNAIR® has led the industry since 1978 in creating the highest quality, innovative and custom-made retractable awnings and shade systems for homeowners and businesses. In fact, SUNAIR® was among the first companies to introduce the European style retractable awning to the North American Market.
Today, our product line includes retractable awnings, Pergola® retractable fabric roof awnings, Adjustable louvered roofs,  exterior and interior roller screens, fabric canopies, as well as specialty shading systems for sunrooms and restaurants. Our products are distributed through our network of independent dealers located throughout North America, Caribbean, and Mexico.
We welcome you to browse this web site for information. Then fill out our requests for estimate form for a free in home estimate from the SUNAIR® dealer in your area. Your local SUNAIR® dealer offers expert installation on all the products SUNAIR® offers.
SUNAIR® has two manufacturing plants in North America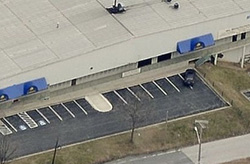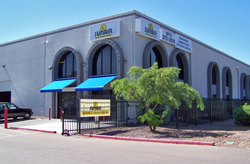 Our 100,000 square foot North East manufacturing plant and headquarters is located near Baltimore, Maryland. This plant services the entire East Coast and Mid West. We also have Maryland's largest awning showroom open to the public. SUNAIR® offers installed awnings and screens directly to the consumer from this location in the Baltimore Washington Corridor.
Our Phoenix, Arizona Western manufacturing plant services the entire U.S West Coast direct to the trade only from this location.
SUNAIR® - The Past
The company was originally founded in 1880 in Malmő, Sweden and known as N.P Martensson's Paraply Fabrik (Umbrella Factory) and later became known as Paraplymarten. Back then the company manufactured custom sun and rain umbrellas, which were sold throughout Sweden and Scandinavia.
In the late 1960's, the 4th generation Martensson, converted the company over to the manufacturing of retractable awnings and canopies. The company was very successful in the Swedish and Scandinavian awning market.
The company wanted to expand its market. In 1978, Olof and Mona Martensson emigrated and founded SUNAIR® in the USA as a subsidiary to the company in Sweden and became the first of modern retractable awning companies to operate in the United States. Subsequently the company in Sweden was sold, and the focus was shifted solely on the U.S operations.
SUNAIR® - The Present
Today the fifth generation Martensson own and operate SUNAIR®.
We are a nationally known U.S manufacturer focusing on creating outdoor living spaces and shade.
We have over 50 years' experience manufacturing retractable awnings and other exterior shading products.
Our modern facilities have state of the art computer assisted fabricating equipment and computerized order tracking in the production process.
We've built a reputation in the industry for a very diverse and high quality product line.
Sunair today is known for its complete product offering with endless possibilities. Customizing is one of our specialties. Nine (9) standard frame colors are available and numerous custom colors with our on premise powder coat paint system in Maryland.
We offer the top brands of acrylic and mesh fabrics.
Since 1880 SUNAIR® has been protecting you from the sun and rain. Whether you wish to enhance the use of your outdoor space, create a sanctuary sheltered from the weather, or protect your patrons and loved ones from the harsh sun and rain, SUNAIR® has the solution to your outdoor needs. This is a new and unique way to experience living outside. Now we offer you the opportunity and satisfaction of creating something unique of your own. A reflection of your personal style…