Somfy Remote Styles | Sunair Awnings

Telis 1 & 4 channels remotes.
Multiple awnings or screens can be controlled with the Telis 4 multi channel remote individually or a s a group. Multi channel remote is great for a single awning with a motor, motorized valance plus drop valance, and LED lights

Telis 16 channels remotes.
Great for large interior or exterior screen installations or awnings with multiple options.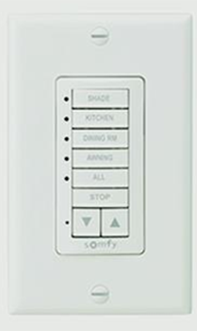 Decoflex
Battery operated wireless wall switch. Multi Channel.

Telis 1 & 4 PATIO REMOTE:
This remote can be used outside and is water resiatant. It is available as a 1 channel and 4 channel remote.
Radio Technology Somfy®
Read More
What is RTS:
Radio Technology Somfy® (RTS) is Somfy's exclusive control platform which enables users to adjust motorized interior window coverings and motorized exterior products such as awnings, rolling shutters, pergolas and screens from virtually anywhere inside or outside the home. RTS allows users to enter a world of solutions designed to create ambiance and bring designs to life to provide the ultimate combination of luxury and performance effortlessly! RTS is offered with a variety of control options such as hand-held remotes, wireless wall switches, table top controls, mobile device control, timers and sensors.
How does it work:
A simple press of a button on a remote control or wireless wall switch sends out a radio wave signal to move any motorized interior or exterior window coverings with ease. There is no need to point or aim the remote, because RTS is omnidirectional and operates within a range of up to 65 feet. And just like a garage door opener, the radio waves travel through walls, making control of motorized products easier than ever.
Benefits:
RTS is omnidirectional and travels through walls making controlling motorized products easy. You don't necessarily have to be in the same room as your motorized product(s),or aim at them in order to operate. Features include Somfy exclusive "my" function, which allows you to program a preferred product position. No extra wires are needed.
Flexibilty:
You can mix and match controls as you wish. RTS, provides the ability to change user preferences anytime with simplified programming. RTS allows you to build your home automation system. For example, you can start with a motorized awning, then add shades and draperies later. You can also integrate your RTS products with third party home automation systems. What's more, RTS adapts easily to changes in your interior layout, as you can add control points or move them at will.