Dimmable LED Awning Lighting | Sunair Awnings
For that special evening with friends or family, create that special mood on your patio. Sunair® is pleased to offer two types of dimmable lighting solutions for your retractable patio awning. Both solutions have a dimmable receiver that can be controlled by the same multiple channel awning remote. The Led's also add safety, security and functionality to your Sunair® awning. They are perfect for residential applications as well as commercial restaurants and hotels. Both lighting options are ideally suited to be used with the Sunea Somfy RTS /CMO remote controlled motor.
Sunair® LED:
The LED lighting strips from Sunair® shown above are optional custom sized light strips for the arm projection added to each arm, with an optional separate front bar strip in select or custom sizes. This lighting solution is available as warm White lights only, with either a White or Black backing depending on the awning metal frame color you select. These lights must be ordered with the awning at the factory and the lights are installed on the frame prior to shipping. Ask your Sunair® dealer for further details.
Somfy® LED:
The LED lighting strips from Somfy shown on the Right are 3 ft light strips that are added to the folding arms. They are available as "Cool White" and "Warm White" and can be easily added to an existing or new awning to create the desired ambience. Ask your Sunair® dealer for more details.
You need a multi channel remote for the LED's such as the Somfy Telis 4 remote depicted above. The awning can be controlled on channel one. with a simple click, you can change the channel to the 2nd channel, and turn on and off the LED's.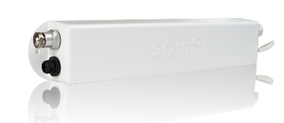 Somfy Dimmable Receiver is used for BOTH LED options, and can be incororated with the Sunea CMO RTS Motor. If used independently, extra cords will be needed to plug into the wall.
Overview
Read More
The LED strips can easily be controlled with a multi channel Telis 4 remote, or for greater convenience with our MyLINK™ system. With MyLINK™ you can Control your awning, light and any RTS products while home or away using your tablet or smartphone. A simple on-screen setup wizard helps you create timed events, scenes and more. Please refer to our "Motorize my awning or shade" section of our web site for more information on how to control the LED's and your sun shade devices with Mylink™ and remote controllers.
In addition, choose from a broad range of control options such as hand-held remotes, wireless wall switches, automatic timers, sensors or a convenient app. Radio Technology Somfy® (RTS) line of controls and accessories offer products to personalize and brighten up your outdoor spaces.
Sunair® is proud to be offering our awnings and shades with quality Somfy® motors, electronics, and remotes. In fact, Sunair has been a customer and distributor of Somfy motors and controls for over 50 years. Their products are of the highest quality consistent with our own philosophy of manufacturing the best awnings and screens on the market. In addition to their high quality motors, Somfy® also have the a superior accessories range that makes are awnings and screens easy to use and install. This is a benefit both for the consumer and the awning dealer.
LED Dimming Light RTS Kit for Arm Awnings / Pergolas
12V Outdoor rated (IP67) LED RTS Dimming Control
Radio Technology Somfy
Compatible with existing RTS controls (Telis Modulis, myLink RTS, Telis 1 Chronis, Telis 1,4,16 RTS)
MY Position
12 Steps of Lighting
Up to 60 W of 12V DC LED Lighting (daisy chain 6 Somfy LED strips)